A large tarp creates a fantastic communal space while camping in the woods. It's quick and easy to erect. A mainstay of many bushcraft camping outfits, a tarp provides shelter from rain and space to work in. You can have a fire underneath a tarp with which you can warm up, dry off your clothes and cook upon. In the warmer months of the year, this is all the shelter you need and, for many, the preferred way to live in the woods.
In the colder, darker months of the year, however, you spend more time in base camp in the evenings. You burn a lot more firewood and even with a decent fire going, you will still need to be wrapped up in warm layers. With few leaves on the trees and with cold winds blowing, you can feel pretty exposed under a tarp. It's hard to fully relax and when it gets dark at 16:00 (as it does in the UK in winter) the evenings are long…
A great alternative for the winter months is a tarp tipi. It takes a little while to build but, once erected, provides a sheltered space that is easy to warm with a small fire. You burn much less firewood than staying warm under a tarp and in this respect alone, the tarp tipi shelter is worth the extra effort it takes to build. You can relax in what is a warm, cosy and welcoming atmosphere.
While it may be a case of misappropriation to call a conical shelter of this shape a tipi, the term tarp tipi seems to have been coined relatively recently to describe a shelter of this construction.
The archetypal tipi of the Plains Indians was certainly steeper than the design shown above, and in this respect the tarp tipi shows more similarity to the lavvu, one of the traditional shelters of the Sami people, indigenous to northern Scandinavia. Lavvu poles tend to be less vertical resulting in a larger ground area for a given height (and greater stability).
The lavvu also bears close resemblance to the conical shelters built by First Nations in the northern parts of North America, from the Mi'kmaq in the northeast to the Tlicho in the northwest.
The above photo was taken at the Canadian Canoe Museum, visited as part of our Canoe Canada: The French River trip.
Other northern peoples also use a conical shelter design similar to the tipi and the lavvu. The chum is a shelter traditionally used by nomadic reindeer herders of Siberia such as the Nenets people. Chums tend to be larger in size than typical lavvu and are still used to this day.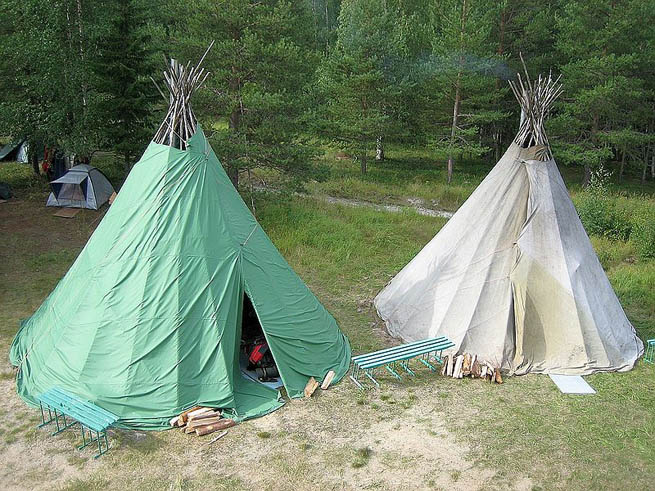 This style of shelter works well in the snow, being relatively easy to heat as well as shedding the snow easily. There are more modern versions of the traditional designs, utilising shaped canvas coverings and containing stoves, rather than open fires.
What all of these shelters – tipi, lavvu and chum – have in common is a conical shape with a frame of long poles covered in a wind-proof material. It is within this category of classic shelter designs that the tarp tipi fits.
Construction of the tarp tipi shelter takes a little while. The main effort is in collecting and preparing the poles. The poles should be selected so they are as straight as possible. Side branches and knots are removed so that there are no sharp protuberances that will damage the covering. The bark is removed.
Once all the poles are prepared, the framework of the structure is created. These photos, from one of our bushcraft courses, illustrates the process:
Once the shelter is completed, it forms a fantastic, relaxing communal space which is easy to heat with relatively little firewood. This thermal efficiency is welcomed when the nights are long and temperatures low. In addition, time spent gathering firewood during the daylight hours is reduced and resources of the forest are used more sparingly. The central fireplace makes for a great cooking area too.
The longer autumn and winter evenings mean that you can undertake some great cooking, get comfortable and work on crafts or repair equipment and, of course, tell stories.
After we included building a tarp tipi on a recent private course, some of the feedback we received was as follows:
"I liked the northern forest living theme that you gave the weekend, it was a nice surprise and added to the whole experience. At one point I looked out of the door of the Lavvu, all I could see through the opening was birch and pine. It occurred to me that I could have been anywhere from Siberia to Alaska – A nice feeling when in reality we were an hour from London!"
Indeed, despite the tarp tipi shelter being a modern take on a classic design, when you are inside you feel part of a long tradition. It's not only a tradition of utilising a design that has sheltered countless people around the northern hemisphere for centuries, if not millenia; it's also a tradition of community centred around the campfire and passing away the long, dark evenings by sharing stories, experiences and laughter. This is as valuable today as it has always been.
If you'd like to join us for an autumn or winter bushcraft experience, drop us a line on info@frontierbushcraft.com to find out what the options are.
And if you've built or stayed in one of these shelters, let us know about your experiences in the comments section below. Thanks!
The following two tabs change content below.
Paul Kirtley is Founder and Chief Instructor of Frontier Bushcraft. He has had a lifelong passion for the great outdoors and gains great satisfaction from helping others enjoy it too. Paul writes the UK's leading
bushcraft blog
. He is the author of
Wilderness Axe Skills and Campcraft
, as well as having contributed to several other books. Paul has been involved in teaching bushcraft since 2003. He is also a Canoe Leader, British Canoeing Level 3 Canoe Coach and UK Summer Mountain Leader.
Latest posts by Paul Kirtley (see all)